Whenever I visit my brother, we inevitably end up discussing Minnesotan and Canadian accents. While he isn't a linguist, but an engineer, he has always picked up on some of those subtle phonological differences. When two new roundabouts were constructed nearby, we talked all [əbʌʊt] the [ɹʌʊndəbʌʊts] (for those who are unfamiliar with IPA: that's "about" and "roundabout" with some Canadian raising sprinkled in).
When we watch a hockey game, we laugh and call the opposing team a [bʌntʃ ə hozɚs] ("bunch of hosers"), which is Minnesota- and Canadian-speak for "losers." The lexical item supposedly comes from outdoor hockey, where you have to "ice" a pond/lake (that means add a layer of water to it) after you play to make the ice smooth again to skate on. Traditionally, the losers do this, so if you're hosing down a sheet of ice, you're a hoser, AKA a loser.
This Thanksgiving, we had our fair share of [o ja ju betʃə] ("Oh yeah, you betcha") jokes as always, but we also had a new addition of Chicago-speak. Our family happened to be talking about old SNL skits when the subject of "Bill Swerski's Super Fans" came up. This was a recurring sketch over 20 years ago, in which four Chicago sports fans talk obsessively about the Bears, the Bulls, and the Cubs, essentially pretending to be analysts (although their predictions were nearly always absurd). Their show takes place "in the heart of Chicago" in Mike Ditka's Sports Bar (Ditka was the coach of the Bears at the time, and he was their idol), where the four drink copious amounts of beer and eat a lot of meat and fried food. You can see an example of this in the video below.
While some of the humor is derived from their wildly inaccurate predictions and obsessive love of Mike Ditka, a majority of the laughs come from their speech. The actors portray an exaggerated Chicagoan accent, which falls within the Inland North in Labov and colleague's Atlas of North American English (2006). It also happens to be a part of the Northern Cities Vowel Shift, which is evident in how they say a lot of their /æ/ and /a/ vowels. Notice the /æ/ in how they pronounce "attack," "fans," "Pat," and "basketball," with the vowel nearly becoming [eə]. Also pay attention to their /a/ vowels in "Bob," "Todd," and "-hicag-", which sound much more like [æ].
It's not just the vowels that they impersonate – they also have word-final plural [s] where other dialects have [z], such as in "boys" [bɔɪs] and "seas" [sis]. They also focus on the fortition of /θ/ and /ð/ becoming [t] and [d], for example "the" being pronounced as "da." We know that Labov (2006) studied this in the speech of New Yorkers, but it's not confined to that city – in fact, it's another characteristic of the Inland North. This is one of the main bits of humor from this sketch, as the most memorable and often-repeated line is their toast to "da Bears" [da: bers].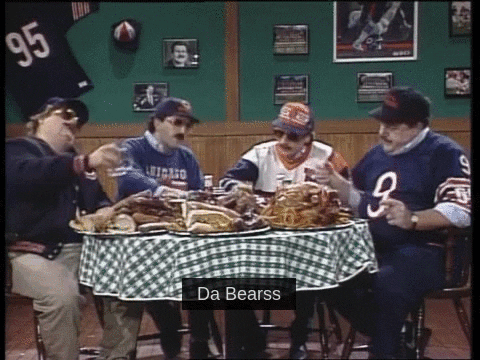 Since this sketch was recurring and wildly popular, I wonder if it had any effect of linguistic awareness. Did people in the Inland North become more aware of these characteristics in their speech? Did people embrace their uses of "da" for "the," plural morpheme /z/ devoicing, and fronted vowels in attempt to solidify their identity as Chicagoan? Or did some people consciously try to change the way they spoke since their accent was mocked on national television? I don't have answers for these questions, but I think it'd be interesting to hear Chicagoans' opinions on their speech, these videos, and the links to their identity – both now and 20 years ago. I know that I myself embrace my Minnesotan accent when in the Midwest, but as soon as I'm back in DC I try to flip a switch, trading my monophthongs [e] and [o] for diphthongs [eɪ] and [oʊ], and abandoning lexical items like "hoser" and "icing" a rink. Maybe they do the same, maybe the don't – that will also depend on the identity of their interlocutor and what kind of identity they want to portray to them.
I anticipate more discussions on Midwestern speech when I visit family again in a couple of weeks. Maybe this time, though, I can introduce my brother to the California Vowel Shift, just to broaden our horizons a bit, dude [dʉd].
___________________________________________________________________________________________________
References
Labov, W. (2006). The social stratification of English in New York City, Second Edition. New York, NY: Cambridge University Press.
Labov, W., Ash, S., & Boberg, C. (2006). The Atlas of North American English. Berlin, Germany: Mouton-de Gruyter.