In deciding which two artists I wanted to focus on in the Modern Period, I chose to focus on two of the larger names from the period, Mark Rothko and Jackson Pollock; specifically from the Abstract Expressionist period. This period in modern art came about in the late 40's, and was defined by  "a development of abstract art that originated in New York in the 1940s and 1950s and aimed at subjective emotional expression with particular emphasis on the creative spontaneous act." (Tate)  However, even though both men painted during the same time and are categorized in the same artistic genre, their styles although in some ways similar, still differ a good bit.
In Pollocks art, he was defined as one of the premier Abstract Expressionists of his time, brining about a new type of painting called "drip painting", which he created by "flinging and dripping thinned enamel paint onto an unstretched canvas laid on the floor of his studio. This direct, physical engagement with his materials welcomed gravity, velocity, and improvisation into the artistic process, and allowed line and color to stand alone, functioning entirely independently of form." (MOMA) Within his paintings themselves, they invoked a " life-force in nature itself, at others they could evoke man's entrapment – in the body, in the anxious mind, and in the newly frightening modern world." His early life could also be connected to the wild ways in which he created art. An addict, he grew up without a stable family life and often bounced around. This chaotic upbringing can be mirrored in his works, which as stated above evoke a sense of anxiousness, instability, and lack of form. In Pollocks work, much of his feelings were quite literally thrown into his art. His ability to be "in" his paintings by standing from different angles and splattering the paint allowed him to connect with the art on a deeper level. Like some other modern art pieces, Pollocks pieces lack a focal point, and rather allow the eye to wander around the painting, rather than centering on one distinct piece within the painting itself. It is more about the colors, the chaos, and the feelings that it evokes.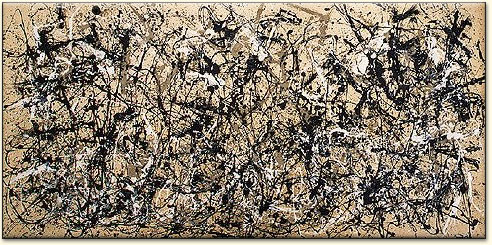 (Pollocks "Autumn Rhythm No. 30)
(Conversation with Jackson Pollock No.41)
Despite creating works within the same time period and being categorized within the same art era, Mark Rothko's paintings differ significantly from Pollock's. Rothko was known largely for creating what is known as the "Color Field" painting "which employed shimmering color to convey a sense of spirituality." If we take the meaning of Pollock's paintings and compare them to Rothko's there is a distinct difference in how one is supposed to feel after looking at each one. With Rothko's paintings, you feel a sense of calm, much related to the "sense of spirituality" as his works are defined by. His art takes on a sense of form by using rectangles on a canvas and is categorized by "floating" on a background of color that often melts into one another. Unlike Pollock, Rothko's form shows"formal elements, such as color, shape, balance, depth, composition, and scale.", whereas a Pollock painting shows just the opposite. Rothko also makes sure to explain that his paintings are not a referral of anything else, nor any other period, (as suggested that his pieces are of Western landscapes), but rather are what the viewer makes of it. "Colorfield painters believe that art could encourage the physical sensation of time and being there with the work."
To say that two artists creating works during the same time period could be so different is something of an anomaly. One would expect the two to be quite similar, yet their form, the methods, and even their feelings towards their art differs completely. While both Rothko and Pollock define very clear elements of Modern Abstract Expressionism, the two men create pieces of works are unlike each other. This shows that although you could belong to the same genre, a lot of what Abstract Expressionism is are artists that have backgrounds in Surrealism or Cubism, many are categorized simply because they fail to fit into one category. Their art has similarities with other pieces created during the same time, yet drastically differ in important aspects. With Pollock, you see a frenzy, an anxious and chaotic piece free of form or any rules. With Rothko, you feel a sense of peace and calm, almost connectedness to God because of the ability to blend colors together to give the illusion of rectangles floating. Rothko has a distinct form, Pollock does not. Pollock entered his work, while Rothko painted from afar. Both artists show that you can belong to a similar artist genre, and create art during the same time, but that doesn't necessarily mean the art will be similar, even on a very basic level.
(Mark Rothko Untitled c.1956)
(Mark Rothko Untitled No. 12)