Emily Rothkopf
For decades, Jeff Koons has employed ordinary objects in extraordinary combinations to provide an ongoing commentary on "materiality and artificiality, eroticism and naivety, popular culture and rarefied elitism" (Zafar 2013).  His latest rendition of these themes takes form in a collaborative project with musician and pop culture icon, Lady Gaga.  Koons first created the album cover artwork for Gaga's 2013 release Artpop.  His second, more ostentatious act was creating a 3D, larger-than-life sculpture, replicating the covers image of Gaga.
Jeff Koons' Lady Gaga sculpture (2013), source: businessweek.com
The sculpture consists of two components – a stark white plaster cast of Gaga and one of Koons' signature metallic blue Gazing Balls, which is constructed of glass and painted on the inside (McKeever 2013).  Gaga is nude with a minimalist, make-up free face, adorned solely with a long wig.  In contrast to her done-up, photographed appearance, many of Gaga's fans would describe the Koons image of the singer as lifeless and pale.  In his Gazing Balls collection and again with the Gaga sculpture, Koons juxtaposes the traditional Greco-Roman inspired sculptures with the perfectly spherical, pop-art inspired balls (Petersen 2013).  The balls are reminiscent of popular garden ornaments that Koons remembers from his childhood in suburbia (Swanson 2013).  While the album cover art appropriates several classical works — Sandro Botticelli's The Birth of Venus and Gian Bernini's Apollo and Daphne, the sculpture draws from his own collection (Gazing Balls) and perhaps from his piece Women in Tub.
Gaga is the second musician that Koons has portrayed in his works – the first being Michael Jackson in 1988.  Koons, like most Pop Artists, aims to communicate with as wide an audience as possible, which is why he would incorporate international, mega-celebrities like Jackson and Gaga into his work.  This is similar to Andy Warhol's use of iconic, hyper-mediated women like Marilyn Monroe.  However, Koons was already one of the most successful living artists at the time of his collaboration with Gaga.  In this instance, it was more of a mutual appeal and partnership that helps blend the music and art worlds, and perhaps bridge a gap between the art world and younger generations (Brito 2013).  While the album cover was seen by millions, the Gaga sculpture and Gazing Balls collection were more limited in reach.  Koons' Gazing Balls collection was housed at several art galleries in New York City during 2013 and the Gaga sculpture was unveiled as part of an album release party in late 2013.
Koons' work is part of the Pop Art movement which was a more conceptual counter to the realist painting and photography genres that proceeded it, and also a more object and image driven art countering the abstract movement.  In his Gaga collaboration, Koons depicts some of the traditional Pop Art themes, like a culture of excess and obsession with image.  But Koons moves beyond these themes evoking concepts like reflection, transformation and transcendence.  Apollo (depicted on the album cover) is the god of music and known to transcend or change upon performing music.  This is a transcendence that one can experience through art, as Koons tries to facilitate with his Gazing Balls.  Like looking into a spherical, reflective ball, your physical being is affirmed, yet transformable.  Additionally, the reflective balls that people place in their gardens are symbols of "generosity to your neighbors" … people not only want transcendence for themselves, but they also want to engage in dialogue with others about transcendence (Ehrlich 2013).  Gaga's Gazing Ball represents the birth of her new music and her own transformation.  But moreover, like her muse Venus, she is presenting herself as a "work of living, breathing art, as an inspirational guide" (Zafar 2013).
Lady Gaga's Artpop album cover (2013), source: idolator.com
Jeff Koons' Gazing Ball – Ariadne (2013), source: artdone.wordpress.com
Jeff Koons' Woman in Tub (1988), source: whitehotmagazine.com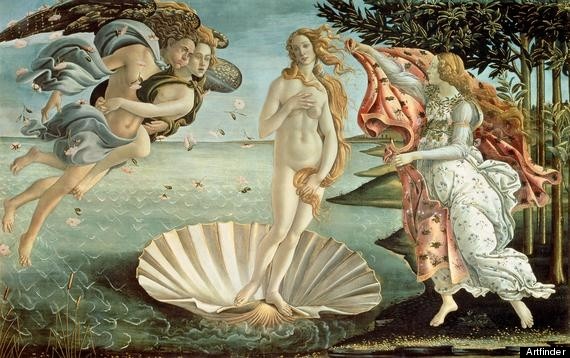 Sandro Botticelli's The Birth of Venus (1485), source: huffingtonpost.co.uk
Gian Lorenzo Bernini's Apollo & Daphne (1625); source: wikipedia.com
Works Cited
Brito, Maria Gabriela. "Lady Gaga and Jeff Koons' ArtRave." The Huffington Post. TheHuffingtonPost.com, 13 Nov. 2013. Web. 03 Mar. 2014.
McKeever, Robert. "Jeff Koons, "Gazing Ball"" Time Out New York. Time Out, 29 June 2013. Web. 03 Mar. 2014.
Ehrlich, Brenna. "Lady Gaga's ARTPOP Cover: Artist Jeff Koons Explains What It All Means." MTV. MTV.com, 8 Nov. 2013. Web. 03 Mar. 2014.
Petersen, Victoria. "'Jeff Koons: Gazing Ball' at David Zwirner." Out of Order Magazine. Out of Order Magazine, 1 June 2013. Web. 03 Mar. 2014.
Swanson, Carl. "Jeff Koons Is the Most Successful American Artist Since Warhol. So What's the Art World Got Against Him?" Vulture. New York Media LLC, 5 May 2013. Web. 03 Mar. 2014.
Zafar, Aylin. "Lady Gaga's Jeff Koons-Created New Album Cover is a Literal Work of Art." BuzzFeed. BuzzFeed, 8 Oct. 2013. Web. 03 Mar. 2014.