When in a class like interaction design the automatic question pops into my head, "How do humans engage with technologies and devices when you have so much to think about and to take into consideration?" Now the question is also extra careful when thinking specifically about young kids. How do you design a Nerf blaster that's appropriate for kids, but looks menacing enough to blow out a Zombie's brain? My answer you have to get rid of the spiked knuckles for one.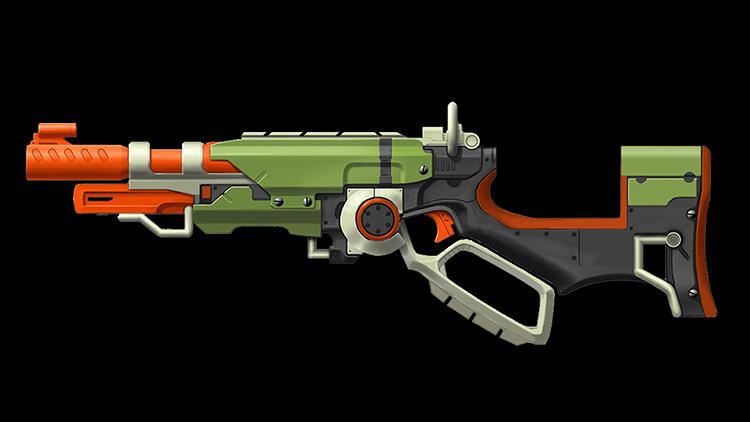 This is the earliest iteration of the Nerf Blaster; which looked like more of a military weapon than zombie blaster.
When the dead walk the earth, the future of humanity will be fought with Nerf! That's the idea behind Zombie Strike, Nerf's line of foam dart blasters designed to look like weapons from an imaginary zombie apocalypse. Due out this fall, the newest weapon in the Zombie Strike line is the Slingfire, a pump-action, post-apocalyptic, sawed-off boomstick. But, you know, for kids.
How does Nerf fit in? "There are very few toy products like Nerf that bridges generations and allows multiple age groups, whether kids or adults, to have the same amount of fun. It also encourages people to engage in what we perceive as 'active play' … to run around and exercise that's what Nerf products compel us to engage in. Nerf hawks products, includes blasters, Supersoakers, and sports equipment, that are designed to be appropriate for a variety of age groups, giving everyone–no matter how old–the feeling that they have just done something impossible. Something like throwing a Nerf football inside without breaking anything, or shooting your kid brother in the face without catching hell from your Mom.
The road path that these several revisions to the blaster makes allows us to see how serious it is to create something for a specific market and how to make it appealing for everyone involved no matter what.
Looking over the design process of the Slingfire, it may seem striking how detailed and even realistic the early prototypes are. They don't look like toys for kids as much as they look like wish-fulfillment blasters for adults. Which, considering the fact that Nerf's designers are also Nerf fans, is exactly what they are. By the time a Nerf blaster reaches store shelves, though, it has to be for everyone, no matter how many zombies you're going to kill with it.